thoughts by jerry marotta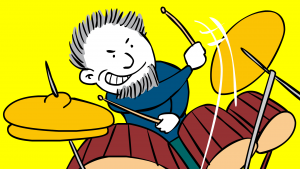 For decades I've led the life of a freelance musician. I've toured and recorded all over the world, working with great musicians from many cultures and generations. During that time I've worked with some of the best, like Peter Gabriel, Paul McCartney, Sheryl Crow or John Mayer, but also many other artists, helping them on their musical journeys. What always impresses me most is the power of the universal language  of music. Music connects us all: Black, white, young, old, no matter our heritage, upbringing or culture. Music brings out the best in us. Magic happens when a bunch of musicians create something new by letting the ideas flow from every direction. 
I have had the pleasure to know a whole lot of great people from different cultures and I can't really understand why leaders around the western world are once again trying to divide us by sowing the seeds of fear and hatred. It's a mess. Some are trying to divide us by spreading so-called "alternative facts", wanting us to believe in simple solutions for complex issues, trying to get us into wars between the good and the bad people. It sucks. 
When my German buddy Alex Sebastian approached me with his unique idea for journeys of a skeleton I was thrilled and wanted to help him shine a light. It's time to take a stand for tolerance and against racism. We all share the same DNA. So let's take the DNA of one song, send it around the world to international musicians and see where they take it, no rules applied. In the end we're going to have a bunch of songs that will be amazing. Songs that will send a strong message about what we can achieve as humans if we drop our biases and start to love. 
Please help us with your donation to send the skeleton around the world and shine a light for tolerance and our core beliefs of a free western society for all. It's that important!
Support this project in your hearts and your music. Together we will make a difference for good. 


jerry marotta
Oct 2018
---
Jerry Marotta is one of the finest and most sought after drummers and producers in the world. He recorded and toured with Peter Gabriel, Daryl Hall and John Oates, Tears for Fears, Joan Armatrading, Paul McCartney, Sarah McLachlan, John Mayer and countless others. He operates the Dreamland Recording Studios in Woodstock, NY and is currently spreading his time between The Marotta Brothers Band (with Rick), The Fragile Fate with Rupert Greenall (The Fixx), Flav Martin, Security Project with Trey Gunn, Reelin' in the Years, and Annie & The Hedonists.